LNG becomes increasingly viable and popular as a marine fuel. XTronica AS offers solution for LNG fuel gas supply systems (FGSS), offshore and onshore bunkering systems, and stationary distribution systems for regasification or fuel filling – all from a single source.
XT-FGSS can fit a land-based bunkering station, bunkering vessel, or tank trailer.
LNG is loaded to vacuum-insulated storage tanks from the bunker stations. To supply the fuel gas to consumers, a submerged pump in the tank discharges LNG into the vaporizer. The vaporizer uses Water-Glycol and the heat source onboard the ship to complete a heat exchange circuit. Then, the pressure and volume of natural gas are regulated by a Gas Valve Unit (GVU) before the final supply. GVU, is a vital component that connects the FGSS and engine.
In case of an emergency pressure spike inside the LNG tank, the safety valve will automatically release the pressure. Thus, ensuring the safety of the crew and equipment.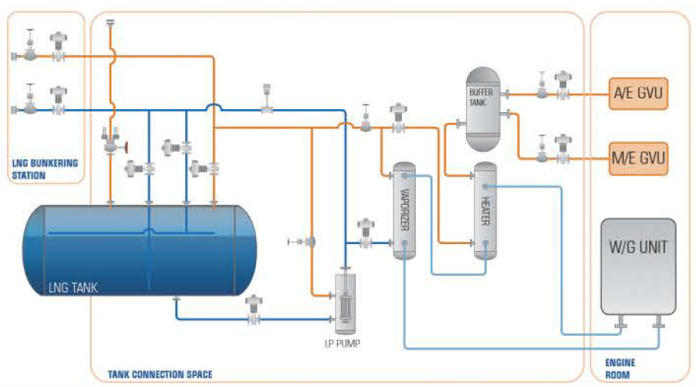 Key Benefits
Clean burning gas, fewer NOx emissions
Increased fuel efficiency
Lower operating costs
Flexibility and fuel independence
One point of contact for all components, training and suppor